Disclaimer:
When you click on link title "Check Live eBay Prices Here" on this site and make a purchase, this can result in this site earning a commission. Affiliate programs and affiliations include the eBay Partner Network. Check our Privacy Policy for more information.
Yellowjacket Comics
Charlton // September 1944 - June 1946
Issue count: 10
A Super Hero Anthology Comic published by a company that became Charlton Comics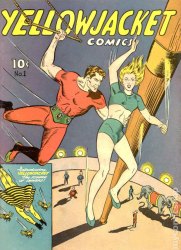 Yellow Jacket Comics was a tilte about the adventures of Yellow Jacket, not to b confused with the Marvel Comics chararacter which is entirely separate. It was published by by E. Levy/Frank Comunale, the company that would later be known as Charlton Comics, and ran for 10 issues from 1944 to 1946. It also contained other lesser known Golden Age heroes.
Read More
Looking to sell your comic books?
Browse our selection of key issues from Yellowjacket Comics below to get an instant estimate of their value.
We have been buying and selling for 20 years and have tons of experience working with sellers just like you!