Disclaimer:
When you click on link title "Check Live eBay Prices Here" on this site and make a purchase, this can result in this site earning a commission. Affiliate programs and affiliations include the eBay Partner Network. Check our Privacy Policy for more information.
Whiz Comics
Fawcett // February 1940 - June 1953
Issue count: 155
Superhero Anthology Comic Featuring The 1st Captain Marvel Shazam!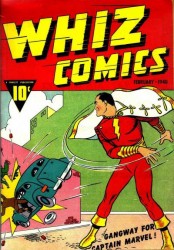 Shazam! One word that symbolized Fawcett Publications' unlikely rise to become legitimate competition to National Comics Publications (later called DC Comics) genre defining smash success Superman. In the early years of the Golden Age of Comics Superman reigned supreme. Fawcett created what some felt was a copy of Superman in their hero Captain Marvel (Now known as Shazam) who debuted in Whiz Comics February 1940. Aside from Fawcett's hero getting his power from magic the biggest difference between the two was that Captain Marvel was in fact a child who transformed into an adult hero with super powers. That detail fueled sales to the point where Whiz Comics started out selling the Man of Steel and Captain Marvel became the most popular hero of the 1940s. However DC Comics eventually brought a lawsuit for copyright infringement leading Fawcett to cease publication of the character in 1953. Eventually DC acquired the character and Fawcett. While Fawcett may be no more their cover from Whiz Comics #1 stands along side Action Comics #1 and Detective Comics #27 as one of the key foundational moments in the entire history of comic books.
Read More
Looking to sell your comic books?
Browse our selection of key issues from Whiz Comics below to get an instant estimate of their value.
We have been buying and selling for 20 years and have tons of experience working with sellers just like you!