Disclaimer:
When you click on link title "Check Live eBay Prices Here" on this site and make a purchase, this can result in this site earning a commission. Affiliate programs and affiliations include the eBay Partner Network. Check our Privacy Policy for more information.
Weird Science
EC // January-February 1951 - November-December 1953
Issue count: 18
One of EC Comics' flagship books, Weird Science is very beloved to collectors for it's superior renderings and visions of the future! See what your copies may be worth on our online price guide!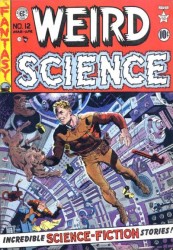 William Gaines, publisher of EC Comics during their late1940s - mid 1950s heyday, hadn't initially the inclination nor the knowhow to enter the comic book biz, although, ironically, he had grown up surrounded by the industry through his dad, Max, who had been an editor and assistant at the companies that published the very first comics in book form in the mid 30s.

Max Gaines had since struck out on his own, establishing and owning the then-called "Educational Comics," a company that reflected his own tastes, which veered toward light humor and Bible Stories.

When Max died unexpectedly in 1947, his son William had just finished his hitch in the armed forces, fighting in World War II. Not necessarily wandering around aimlessly, but very unsure of what his next move would be after returning to the states, he decided to throw his helmet into the ring and at least attempt to make a go of his father's business which he had inherited.

Two key elements contributed to the subsequent success he achieved in his new venture; First of all, just by virtue of being a young man, he knew in his heart that the type of material EC was putting out under his dad's control was a bit out of step and corny, and did not reflect, nor take into account that the audience for comics was becoming older and more sophisticated in the Atom-Age.

Secondly, he had the good business sense to retain a right-hand-man that actually DID know the various ins and the various outs of running a comic book company. This man was Al Feldstein, a well-versed artist/writer and editor. He would be Bill Gaines' art director and editor in chief for the new, re-booted EC Comics (now known as Entertaining Comics, but mostly referred to as EC).

The two men started building up their reputation by introducing a new line of books that would attract an older demographic by pushing the envelope with edgier material that the post-war audience was craving. EC soon became THE desirable place to work, at a time when the wartime superhero boom was essentially gone and left artists, writers and editors scrambling for any work while listening to their groaning stomachs.

EC quickly retained the services of the most talented among these struggling fellows - Gaines and Feldstein were bursting with ideas, and why should they have settled for any less than the best to realize their flights of fancy?

The new, revamped company would now dabble in many genres; War, True Crime, Science Fiction - all of which did very well - but it is perhaps their grittier line of Horror/ Supernatural books that are the titles for which EC are most vividly remembered today.

EC had always maintained the aesthetic that if you were going do something, you should do it the best you can given the resources at your disposal. Now, it is said that Gaines was not necessarily a fan of science fiction - it's not that he was repelled by it, rather more a matter of having limited exposure to it.

Enter genius artist Wally Wood and a good friend of his, popular science fiction author (and sometime artist) Harry Harrison. The story goes that they started inundating Gaines with essential works of science fiction that he just had to read - Wood and Anderson were not-so-subtly trying to get Gaines to enter the sci-fi arena with EC.

It worked. They succeeded in cajoling Gaines (and Feldstein - still ersatz "Art Director" and managing Editor) to start up a Science Fiction line. I'm sure they figured "Hell, we have probably the best Science Fiction artist (Wood) already working on our staff, and Harrison seems to be held in some regard…let's give it a go!"

So, EC, not ones to do things half-measure, released TWO science fiction books simultaneously in the Spring of 1950 : Weird Fantasy and Weird Science. Despite the difference in title, there really was very little difference between the type of stories contained in both (in fact, they would add a third sci-fi comic to the roster in 1952 called Weird Science Fantasy, appropriately enough).

Curiously, one difference between Fantasy and Science, although the books were being produced concurrently and employed the usual cast of characters detailed below, is that there are a greater amount of unknown and/or unconfirmed writer and artist credits in Weird Science. Odd because EC, comparative to other publishers of the time, were usually meticulously accurate in their record keeping.

The look of the books were beautiful, often with vivid eye-catching Feldstein covers, and an exceptional Wally Wood story in almost every issue. You can surmise that the entire staff was excited about going in this direction because, more than ever before, the scripts were contributed by the one supplying the artwork; Wood, Harry Harrison, Al Feldstein and Harvey Kurtzman wrote the bulk of their own stories, while, as per usual, Feldstein and Gaines contributed most of the others (and Gardner Fox submitted some scripts early on).

One gets the sense that the stories for Fantasy and Science were being cranked out at the same time, and the editorial decision about which stories went to which book was made, arbitrarily, just prior to press-time.

And the scripts were not your standard bland alien/rocket ship type of stuff being churned out by lesser companies. There were lessons to be learned from glimpsing the future, and Kurtzman in particular had a sensitive moral compass in his writing, which allegorically addressed the dangers blacklisting and "Red-Baiting," while others reflected concerns with losing our humanity, and the ecological damage that "science" may be steering mankind toward. Sure, not all of the stories avoided the pitfalls of science fiction stereotypes, but when the writing aspired beyond the standard fare, it was rarely executed in such a subtle manner as by EC.

Creatives that also contributed to the books were ones familiar to EC fans : Marie Severin, Joe Orlando, Al Williamson, Jack Kamen, George Roussos - and we even got a treat with a Frank Frazetta illustrated story in issue # 14 of Weird Fantasy (this issue is very sought after). Weird Science, additionally, contained art by Bill Elder and Sid Check, both of whom have no known credits in Weird Fantasy…

The perspective of time illustrates that EC's Science-Fiction line rivaled their horror line in quality and substance, and have remained very popular on the collectors market for decades.
Read More
Looking to sell your comic books?
Browse our selection of key issues from Weird Science below to get an instant estimate of their value.
We have been buying and selling for 20 years and have tons of experience working with sellers just like you!