Disclaimer:
When you click on link title "Check Live eBay Prices Here" on this site and make a purchase, this can result in this site earning a commission. Affiliate programs and affiliations include the eBay Partner Network. Check our Privacy Policy for more information.
Tomahawk
DC Comics // September-October 1950 - May-June 1972
Issue count: 140
The Western-Frontier genre is very niche in comicdom, but DC had success when they introduced TOMAHAWK in 1950. The series ran for 22 years - a testament to the consistent quality of the book! Early issues are most sought-after, and are climbing in value!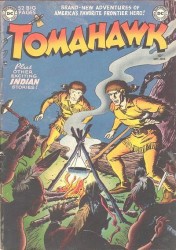 DC delved into the western-frontier realm beginning in 1950 when they brought out Tomahawk. This title was very impressionable, in a romantic way, to the youth of the era - the whole cowboys and indians thing was in full swing!
It had an audience, and the book managed to stay in print for 22 years!
Along the way, it featured memorable entries from Rex, The Wonder Dog.
And, seemingly incongruous, issue #106 featured appearances from Golden-Age heroine Miss Liberty!
As time goes by, the earlier issues and the key books are gaining steam in terms of value and collectibility! Get 'em while can!
Read More
Looking to sell your comic books?
Browse our selection of key issues from Tomahawk below to get an instant estimate of their value.
We have been buying and selling for 20 years and have tons of experience working with sellers just like you!