Disclaimer:
When you click on link title "Check Live eBay Prices Here" on this site and make a purchase, this can result in this site earning a commission. Affiliate programs and affiliations include the eBay Partner Network. Check our Privacy Policy for more information.
Star Spangled War Stories
DC Comics // November 1952 - February-March 1977
Issue count: 202
Among the ranks of DC's Star Spangle War Stories passed some of best-loved characters of the genre. THE UNKNOWN SOLDIER, ENEMY ACE, & MADEMOISELLE MARIE all had lengthy runs in this increasingly collectible title! Check current values on our price guide!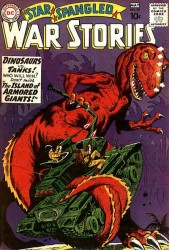 As sited in some of our other entries in this price guide, DC was a leader in War Comics in the 50's, when the industry had turned away from superhero titles...
Simply put, they had the best of the best of illustrators that could vividly render the images of military combat - in a way that lesser comic companies wish that they could!
SSWS ran from 1952 - 1977, way passed the time thay most other war comics had disappeared from the racks!
The series gave us significant runs by fan favorites The Unknown Soldier, Enemy Ace, and Mademoiselle Marie!
The whole series is worth reading, but the early issues are the most attractive to collectors, and war titles are continuousty rising in value!
Read More
Looking to sell your comic books?
Browse our selection of key issues from Star Spangled War Stories below to get an instant estimate of their value.
We have been buying and selling for 20 years and have tons of experience working with sellers just like you!