Disclaimer:
When you click on link title "Check Live eBay Prices Here" on this site and make a purchase, this can result in this site earning a commission. Affiliate programs and affiliations include the eBay Partner Network. Check our Privacy Policy for more information.
Science Comics
Fox // February 1940 - September 1940
Issue count: 8
Right on the heels of PLANET COMICS, Fox put forward their take on the sci-fi comic, which tried it's best to compete - they even got Lou Fine to draw covers!Ultimately, Science lasted only 8 issues, by which time had become more of a superhero book...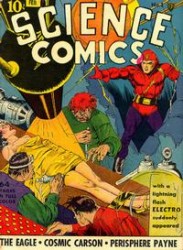 Victor Fox had hard luck right out of the box. He had established his comic-book division of Fox Features Syndicate, and his first release, Wonder Comics, caused quite a stir in the industry.
He was one of the many publishers that relied on material produced by the freelance studio run by Will Eisner and Jerry Iger. The Eisner/Iger Shop as it was known, was a co-operative of many artists and writers that would produce comic book features on demand to be sold to outside companies.
When Fox tasked Will Eisner to come up with a character "like Superman," he came up with Wonder Man, who made his debut in May 1939 in Wonder Comics #1. In short order National Periodicals/DC, who published the now-overwhelmingly successful Superman, cried "FOUL" and promptly brought suit against Fox because the Wonder Man character was too close to The Man of Steel for their liking.
DC won. Eisner testified that he intentionally stole the character…
However, before this debacle all went down, Fox had obtained at least 4 good issues of material from Eisner/Iger for his new science fiction title, Science Comics, which was heavily modeled after Planet Comics from rival Fiction House. Rockets, babes, and cowled space-heroes in colorful garb were featured heavily on artist Lou Fine's immaculately illustrated covers, and the anthology format with many running characters mimicked the Planet model.
So, after the Wonder Man case, Victor Fox fired Eisner/Iger, and poached one of their staff, Joe Simon to edit Science Comics (Simon would almost immediately be snatched up by Martin Goodman and Timely Comics, and Simon, along with another E/I alumnus, Jack Kirby, would create Captain America within months of being hired - the rest is history).
Simon had a liking for superheroes, and right away, as Editor, would move Science Comics in that direction, thus straying from its original intention. There were only eight issues, but the last two, under Simon, highlighted the superhero characters The Eagle and Dynamo.
Still there is some great work in those comics with notable contributions from Lou Fine, Emil Gershwin, George Tuska, Dick Briefer, Bert Whitman, and, yes, even Jack Kirby, who's Cosmic Carson appeared in issue #6 (this would in effect be his last work for Eisner/Iger).
Even after Simon and Kirby's departure, Victor Fox saw that the future was with long-underwear characters, and for most of the next six years would concentrate on that type of material in titles such as The Blue Beetle, The Flame, Wonderworld Comics, Samson, The Big-Three, The Eagle and The Green Mask. It was pretty respectable stuff, too.
But Science Comics will always be collectible because there are so few of them out there, and will forever be recalled as the companion book from the company that lost one of the highest-profile comic-book copyright-infringement lawsuits ever. Big dollars are changing hands over existing copies of Science Comics...
Read More
Looking to sell your comic books?
Browse our selection of key issues from Science Comics below to get an instant estimate of their value.
We have been buying and selling for 20 years and have tons of experience working with sellers just like you!