Disclaimer:
When you click on link title "Check Live eBay Prices Here" on this site and make a purchase, this can result in this site earning a commission. Affiliate programs and affiliations include the eBay Partner Network. Check our Privacy Policy for more information.
Planet Comics
Fiction House // January 1940 - Winter 1953
Issue count: 73
Fiction House's PLANET COMICS essentially invented the sci-fi comic book! Such an influential book, with content provided by the Will Eisner/Jerry Iger studio, it laid the foundation for every other sci-fi title after it!Hardcore collectors items!!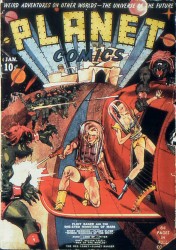 Fiction House was a very successful "Pulp" magazine publisher beginning in the late 20's. They moved lots and lots of Western and Sports stories in their magazines. Originally owned by John B. Kelly and John Glenister, they were relatively late to the comic book game.
Two things changed this; first, by the time the comic book craze was in full swing in the late 30's, Glenister's son-in-law, Thurman Scott was pretty-much running the company. He was the one that was open to the idea of branching out into comics after being solicited by Will Eisner and Jerry Iger - the second part of our equation - as they had just opened a co-operative studio which employed a myriad of writers and artists whose collected output would then be sold to various publishers and entities that may demand this type of material.
It was a no-brainer for Eisner and Iger to solicit established Pulp publishers, as it would seemingly be a logical transition for those types of houses to start putting comics on the market. The gap that the Eisner/Iger Shop (as it would become known) was filling, is that most Pulp publishers had no experience with how to "do" comic books, and Will and Jerry had so much talent and experience on their staff that it would be low-maintenance for some of these Pulp-guys to "buy-in."
Fiction House took the leap, and went on to essentially set the precedent for two popular comic book genres - the "Jungle" comic - they invented Sheena of The Jungle, and were responsible for her overwhelming popularity in the 40s and beyond - and the Science Fiction comic book, for which their Planet Comics must be considered "ground-zero," laying down the gauntlet for every other book of that type which would come out in the years going forward.
Sure, we had Flash and Buck - but their fame was achieved through either the written word only, or through the well-respected syndicated comic strip - and on this point, you must understand that the 'comic-book" was the low-brow "bastard son" of the daily and Sunday 'funnies."
After all, Hal Foster and Alex Raymond drew for the strips, and everyone considered them "ar-teests", as opposed to the untalented bums that worked like slaves creating a product that, the general public figured, was made to be thrown in the trash after their children had lost interest…
Planet Comics was the first of its type to graphically expose us to the visions of possible futures in a sequential way - all contained in one book! Fiction House would not have been able to make a success of it were it not for the fantastic talent of the Eisner/Shop workers. Aside from Eisner himself contributing, who was no slouch, other contributing legends that passed through the Eisner/Iger Shop, and later The S.M.Iger Shop (Eisner had departed to pursue stardom with his weekly syndicated strip, The Spirit) were Lou Fine, Dick Briefer, George Tuska, Bob Powell, Charles Sultan, Henry Kiefer, Don Rico, Charles Quinlan, John Celardo, Gene Fawcette, Robert Webb, Al Gabriele, Nick Cardy, Rudy Palais, Lee Elias, Joe Kubert, Murphy Anderson, Jack Keller, Ruben Moriera, Bob Lubbers, Matt Baker, Leonard Starr, George Roussos,John Rosenberger, Jim Mooney, Jack Abel...many of these fellows went on to have lucrative careers at the big companies, while some are just fondly remembered as sci-fi and horror specialists whose careers peaked in the 1950's. Just as important, Fiction House and/or The Iger Shop were pioneers if only for employing female comic book artists : Lily Renee, Fran Hopper, Ruth Atkinson, and Regina Levender all had many stories published in Planet - especially during the war years.
The Eisner Iger Shop, parenthetically, are responsible for publishing the first stories drawn by pioneer/comics deity Jack Kirby!
In the early 50's, Planet started relying heavily on filling their books with reprints of earlier stories, but this did not last, as in 1953 Fiction House started to feature all new material once again, unfortunately they cancelled the title in late months of that year with issue #73 being its last.
Planet Comics will always be fondly remembered for introducing a whole generation to the idea of science fiction, and was an inspiration for writers and artists to aspire to their own careers (Roy Thomas and Jules Pfiefer specifically site Planet Comics as having a large influence on their work).
All 73 issues are little treasures, and are sought out by discriminating collectors...
Read More
Looking to sell your comic books?
Browse our selection of key issues from Planet Comics below to get an instant estimate of their value.
We have been buying and selling for 20 years and have tons of experience working with sellers just like you!