Disclaimer:
When you click on link title "Check Live eBay Prices Here" on this site and make a purchase, this can result in this site earning a commission. Affiliate programs and affiliations include the eBay Partner Network. Check our Privacy Policy for more information.
Military Comics
Quality Comics // August 1941 - October 1945
Issue count: 43
Follow these military heroes' journeys during the Golden Age of Comics! See what copies that are floating around are selling for by using our online price guide.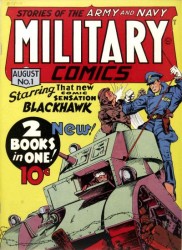 Military Comics was an American comic book series published in the early 40's by Quality Comics. After issue #43, the series changed its title to Modern Comics where it continued until cancellation in 1950 with issue #102.

The series was an anthology title featuring various adventurers, but is most widely recognized for introducing the Blackhawk Squadron, along with the Blue Tracer, the Death Patrol, Miss America, the Phantom Clipper, the Sniper, Private Dogtag, Secret War News, and the Yankee Eagle.

DC Comics later acquired the rights to many of Quality's characters, including the Blackhawks who went on to star in their own long-running DC Comics title.
Read More
Looking to sell your comic books?
Browse our selection of key issues from Military Comics below to get an instant estimate of their value.
We have been buying and selling for 20 years and have tons of experience working with sellers just like you!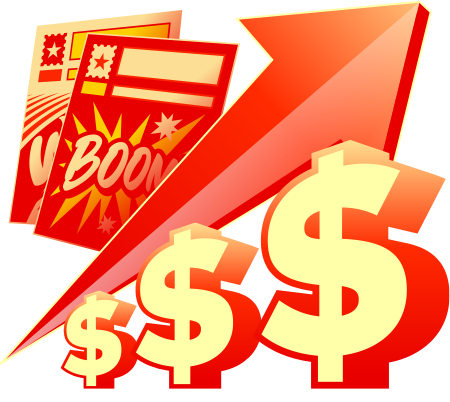 Issue #1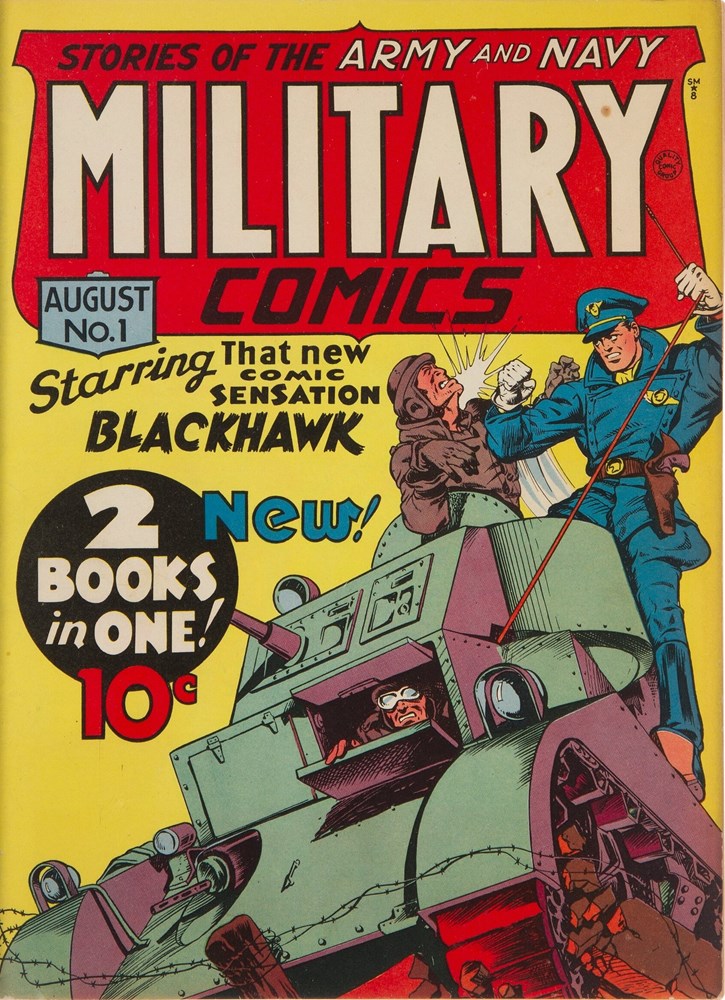 What's Military Comics #1 worth in 2023?
A mint condition issue #1 of Military Comics Vol. 1 can be sold as high as $52,580. That's the price paid for a 9.4 issue in May 2018. The same issue sold in 2005 for $27,600. A 5.5 book had a March 2010 price of $1,195, after decreasing its $1,995 value from 2003. And a 0.5 copy sold for $143 in May 2011, being the only time it changed hands.
Why is this comic book valuable?
Issue #1 of Military Comics Vol. 1 is called "The Origin of Blackhawk". It was published in May 1941, with a cover date of August 1941. It was written, penciled and inked by Chuck Cuidera, Will Eisner, Bob Powell, Fred Guardineer, Harry Campbell, Klaus Nordling, William Smith, Jack Cole, Ed Wexler and Henry Kiefer.
Key Facts About the Comic
With some exceptions, this is basically the same team of writers and artists that were later in charge of National Comics.

The stories in Military Comics followed the adventures of the Blackhawk Squadron. The series ran for 43 issues and was then rebranded as Modern Comics.
Story Synopsis
The issue features several stories, with a variety of heroes as main characters, and then appearing as supporting characters in other stories:
1. Blackhawk: "The Origin of Blackhawk"
2. Loops & Banks: "Flying With the Red Dragon"
3. Blue Tracer: "Origin of the Blue Tracer"
4. Archie Atkins, Desert Scout: "Episode With a Goat"
5. Shot & Shell: "Enlisting the Hard Way"
6. Yankee Eagle: "The Coming of the Yankee Eagle"
7. Death Patrol: "Origin of the Death Patrol"
8. Miss America: "The Origin of Miss America"
9. Q-Boat: "Sink the Kaiser Adolf"
Price Guide Report
| GD 2.0 | VG 4.0 | FN 6.0 | VF 8.0 | NM 9.4 | RECORD SALE! |
| --- | --- | --- | --- | --- | --- |
| $0 | $2,950 | $2,200 | $3,600 | $45,600 | $52,575 |