Disclaimer:
When you click on link title "Check Live eBay Prices Here" on this site and make a purchase, this can result in this site earning a commission. Affiliate programs and affiliations include the eBay Partner Network. Check our Privacy Policy for more information.
Marvel Mystery Comics
Timely // December 1939 - June 1949
Issue count: 91
Timely's flagship comic book! And for good reason! Great stories and characters like THE HUMAN TORCH, SUB-MARINER, THE ANGEL, THE VISION, KA-ZAR and others. All of the issues are on every Golden-Age collector's "wish list." See prices - click the link!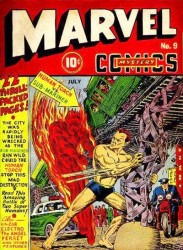 A Look into the Golden Era - Marvel Mystery Comics
Nowadays you can't go anywhere, turn on the TV, or browse the Internet without seeing something about Marvel and its cinematic universe offerings. Before Marvel became the entertainment powerhouse today in the movie industry, with billions of dollars in revenue and a sweet-heart acquisition by Disney, they were one of many offering in the comic book world.
Independent comics such as Image and Dark Horse began to rise before the advent of the cinematic universe, but before these scrappers came onto the scene, if you wanted a comic book adventure, you were limited pretty much to DC and Marvel.
But before Marvel was one of the "Big Two," who were they, and where did they come from? Today, we're going to look at the origins of Marvel Comics, and specifically, their birth in the Golden Era of comics book publishing in the pulp heydays.
Timely Comics
More properly known as Timely Publications, the company was founded in 1939 by a man named Martin Goodman. Goodman was the owner of a pulp magazine publishing company who saw the rise of the first super hero comics of the time and their skyrocketing popularity as an excellent business opportunity.
For those not in the know, pulp magazines and books were called such because they were printed with cheap paper that was often unfinished on the edges. They were also known for their often sordid content, a reputation that comics would pick up themselves in the post-war era and eventually lead to the creation of the Comics Code Authority, an industry-created watchdog of sorts.
Timely Comics (TC) was a sort of "umbrella" publisher that incorporated many works as part of a business strategy employed by Goodman. The first comic published by Timely Comics, entitled simply "Marvel Comics," had a small initial print run that ran out quickly. Pleased with this success, Timely went ahead and published another, larger run, which also ran out.
With a successful venture already underway, "Marvel Comics" were renamed to "Marvel Mystery Comics," and the second issue came out in December.
First Appearances
One of the possible reasons for the early success of Marvel Comics was the introduction of fantastic characters that we still know and love today, though they were often far different characters at their inception!
The Human Torch
It may surprise you to discover that writer-artist Carl Burgos created the iconic inferno, not as a wise-cracking hot-headed member of the Fantastic 4, but instead as an android constructed by a mad scientist.
His first few appearances portrayed the fiery machine as a monstrous being, but the Human Torch became a fan favorite, and he was transitioned into a secret identity type character who worked as a policeman for a cover. The Human Torch fell off in popularity rather quickly, and was not a major part of the initial Marvel Comics run. When the brand was revived later by Jack Kirby and Stan Lee, the burning android was recreated as the character we know and love today.
Namor the Sub-Mariner
Bumping elbows with an uncomfortably warm icon in the first issue of Marvel Comics was also Namor the Sub-Mariner, an anti-hero type of character created by Bill Everett. Inspired by the poem "The Rime of the Ancient Mariner," Everett created a character who was as often villainous as he was heroic, butting heads with the United States and the red-hot automaton mentioned earlier.
Namor has been a staple of Marvel Comics since its inception, and he enjoyed his own run of comics focused entirely on his adventures. Though often quick-tempered and tempestuous in nature, Namor wasn't afraid to drive home a point with a tidal wave or two. During the advent of World War II, Namor took a heroic bent and served to help bring down Hitler and his Nazi war-machine, as most comic heroes did at the time.
If a mutant merman fighting Nazis doesn't stir your patriotic blood, perhaps this next hero who first rose to prominence at this time will.
Captain America
Joe Simon was the first editor of TC, and a talented writer as well. While trying to think of a patriotic character, he created a rough sketch of Captain America. Cap's birthday was a difficult time for the world, with World War 2 raging and tensions between the United States and Japan at an all-time high.
Simon took the idea to the owner of Timely Publications, Martin Goodman, and to his surprise, the prescient business man ordered Simon to create a solo-character run of comics. Simon was somewhat taken by surprise, and knew he would have to work hard to create a comic about a single character and fill it with content on his own.
To that end, he considered partnering with Al Avison and Al Gabriele. Simon was worried that with all this content to create, his usual artistic partner Jack Kirby might not be able to carry so much workload.
However, Kirby's pride and talent convinced Simon to stick with his usual artistic partner, and Captain America Comics went on sale in December of 1940. With an incredible cover of Cap slugging Adolph Hitler in the face, the first issue sold a million copies.
While the patriotism and values Cap stood for were popular with many, they were not so popular as others. A little part of American history that isn't often covered is that not every American was opposed to Hitler and the Nazi Party's radical ideas about race, ethnicity, and nationalism. Captain America threw a punch in the comics, and Simon and Kirby threw a gauntlet down. Their stance caught some flak, and police had to be called to provide some protection as gangs of unsavory looking folks started hanging out outside their offices.
On to Modern Times
As a whole, the comic book industry took a decline in the post-war period. It was in this post-war environment in the 60s when Stan Lee revitalized the super hero genre by appealing to older audiences.
Though Marvel Mystery Comics had their origins in the late 30's, they continued to run for over 150 issues through 1957, when Marvel Mystery Comics closed its doors. The modern run of Marvel Comics were opened shortly after, with many of the familiar characters returning under new art direction and with dynamic, modern story telling for the time.
Today, Marvel continues to enjoy great success with the blockbuster Cinematic Universe and recent comic book renaissance. From their humble beginnings as a pulp comic to the decline in the 1950s and 60s, Marvel has shown an incredible staying power through clever writers, talented artists, and excellent leadership.
Read More
Looking to sell your comic books?
Browse our selection of key issues from Marvel Mystery Comics below to get an instant estimate of their value.
We have been buying and selling for 20 years and have tons of experience working with sellers just like you!