Disclaimer:
When you click on link title "Check Live eBay Prices Here" on this site and make a purchase, this can result in this site earning a commission. Affiliate programs and affiliations include the eBay Partner Network. Check our Privacy Policy for more information.
Kid Eternity
Quality Comics // Spring 1946 - November 1949
Issue count: 18
A comic featuring one of the first supernatural boys from Earth! See what copies that are floating around are selling for by using our online price guide!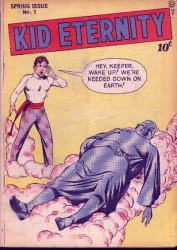 Kid Eternity comics followed the story of Christopher Freeman, a young boy living during the 1940s. Due to an accident, his life was tragically cut short some seventy-five years. The powers that be attempted to correct the mistake by reviving Freeman and bestowing upon him the powers to call upon the dead. Attending the kid was the enigmatic mentor Mister Keeper who traveled with him on most of his adventures.
Kid summons the dead to help him fight criminals and the bad in the world. After issue #18, the series was rebranded as Buccaneers Vol. 1, which continued with issue #19, featuring Captain Daring. The next issue of Kid Eternity was published as a Vol. 2 in 1991, with characters from DC's New Earth, instead of the ones from Earth-S.
Years later, all characters from Quality Comics were bought by DC Comics.
Read More
Looking to sell your comic books?
Browse our selection of key issues from Kid Eternity below to get an instant estimate of their value.
We have been buying and selling for 20 years and have tons of experience working with sellers just like you!