Green Lantern #76
Published April 1970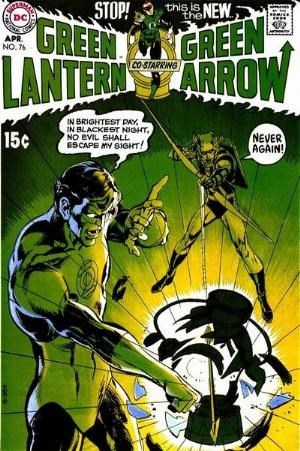 What's Green Lantern #76 worth in 2023?
Only two copies have surfaced graded NM/MT 9.8. That book brought $31,000 in 2014. This book is very affordable in all but the highest grades as there are over 2,000 issues registered with the CGC Census. A 6FN 6.0 can be purchased for the very reasonable sum of $500 compared to as low as $150 in 2009. A GD 2.0 only brings $150 currently which is not very far off the $75it cost in 2015. While not a hot commodity it is a snapshot into American history and well worth the price.
Why is this comic book valuable?
Green Lantern #76 is valuable because Green Arrow joins the book as well as being the first comic that shined a light on relevant social themes of the day. In this issue the Green Arrow takes the Green lantern and introduces him to an African-American man that admonishes Green Lantern for helping aliens before earth's minorities. Classic art by legendary comic book artist Neal Adams as well.
Price Guide Report
| GD 2.0 | VG 4.0 | FN 6.0 | VF 8.0 | NM 9.4 | RECORD SALE! |
| --- | --- | --- | --- | --- | --- |
| $150 | $250 | $350 | $725 | $3,700 | $37,344 |