Disclaimer:
When you click on link title "Check Live eBay Prices Here" on this site and make a purchase, this can result in this site earning a commission. Affiliate programs and affiliations include the eBay Partner Network. Check our Privacy Policy for more information.
Golden Lad
Spark Publications // July 1945 - June 1946
Issue count: 5
See the golden-haired kid saving the day over and over! Find out what copies of this series are selling for by using our online price guide!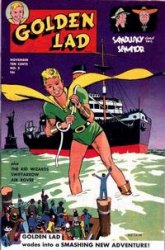 Golden Lad was a comic series first released in July 1945. The story followed Tommy Preston, the Golden Lad, and his adventures. He was a kid superhero used to saving the day by being able to do things adults didn't do, as the comic's message was that kids are smart and capable as well, just younger than adults.

The premise was good but due to the fact that it didn't amass a huge readership and also publishing issues, they had to cancel the comic in July 1946, a year after its first release. The comic has never been revived since.
Read More
Looking to sell your comic books?
Browse our selection of key issues from Golden Lad below to get an instant estimate of their value.
We have been buying and selling for 20 years and have tons of experience working with sellers just like you!