Disclaimer:
When you click on link title "Check Live eBay Prices Here" on this site and make a purchase, this can result in this site earning a commission. Affiliate programs and affiliations include the eBay Partner Network. Check our Privacy Policy for more information.
Chilling Tales
Youthful // December 1952 - October 1953
Issue count: 5
Chilling Tales Youthful Magazines // December 1952 - October 1953 Issue count: 5 Some horror and scary tales to keep you awake at night! See what copies that are floating around are selling for by using our online price guide!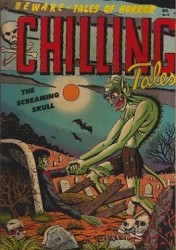 Youthful Magazines was a small publisher that knew how to ride the wave of new genres for comics. After the superheroes got a little repetitive, the publishers started exploring different genres, such as teen humor, female heroes, and an audience-favorite: horror stories.

Chilling Tales featured 4 or 5 short horror stories per issue, and when it was first-released, it continued the numbering from Beware - Chilling Tales of Horror, after the Beware franchise was acquired by Trojan Magazines in 1952. The series had already been renamed twice before, and it ran for 17 issues in total.

Follow Quality Comix's links in the online price guide to see the prices that some of these issues are currently fetching on the collectors market!
Read More
Looking to sell your comic books?
Browse our selection of key issues from Chilling Tales below to get an instant estimate of their value.
We have been buying and selling for 20 years and have tons of experience working with sellers just like you!