Disclaimer:
When you click on link title "Check Live eBay Prices Here" on this site and make a purchase, this can result in this site earning a commission. Affiliate programs and affiliations include the eBay Partner Network. Check our Privacy Policy for more information.
Captain Marvel Adventures
Fawcett // [March] 1941 - November 1953
Issue count: 150
Fawcett's most popular character, after his debut in Whiz Comics, CAPT.MARVEL was given his own title in 1941. He almost gave Superman a run for his money! Many of his 40's books are very valuable! Check prices using our online price guide!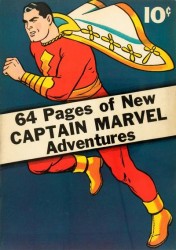 Wilford Fawcett was quite a character, and, for the most part, a self-made man.

Born in Ontario, Canada in 1885, his family, at some point during his childhood, immigrated to Minnesota. When he was 16, he ran away from home to fight in the Spanish-American War, where he was stationed in the Philippines.

Having made it through relatively unscathed, he decided to be a reporter for the Minneapolis Journal, until the Great War came along. Because of his previous military service, he was able to assume the rank of Captain - and also acquired the nickname "Captain Billy."

While working for the military newspaper Stars and Stripes, he somewhere along the way became enamored with cartoons and humor of a slightly off-color nature ( you know those soldiers). And it was after his discharge that he made the decision to enter the publishing arena in conjunction with his sons.

Fawcett's initial offering was a humor magazine featuring mostly humorous stories, limericks and a few single page illustrations (at first). Although most of what is recollected about "Captain Billy's Whiz Bang" characterizes the general tone as being of a "bawdy" nature, upon review, the content was actually pretty mild by today's standard. It was certainly more of a general humor pulp - mostly text - than the sexually explicit "8-pagers" or "Tijuana Bibles" that were floating around in the 20's underground…

Whiz Bang by all accounts was actually fairly popular, and despite the fact that Fawcett was given to inflating his own sales figures, it allowed him and his sons to expand in the 30's, moving on to publish other popular pulps as well as magazines like Mechanix Illustrated, Screen Secrets, Daring Detective, and most notably True Confessions, which reported sales in the millions each month!

Captain Billy was such a success as a pulp publisher in the 1930's, that he built a huge home called the Breezy Point Resort, where he rubbed shoulders with and entertained movie and sports stars and prominent political figures.

1939 was the boom year for comic books, and Fawcett followed suit by engaging writer William Parker and artist C.C. Beck to come up with a character to rival Superman. That costumed hero was, of course, Captain Marvel, and he was introduced in Whiz Comics #2 (a sly reference to "…Whiz Bang") in December of 1939 (cover date Feb. 1940). Unfortunately, Wilford "Captain Billy" Fawcett did not live to see the immense popularity that Captain Marvel enjoy in the coming decade, as he died in February 1940.

Nor did he survive to see the superhero empire that his sons would build in the 40's. Although they had other popular hero books, there was never any doubt that it was Captain Marvel that anchored Fawcett's success.

The twist to the character Captain Marvel, was that before Captain Billy died, he is attributed to coming up with the idea that it should be a "kid that turned into a Superhero." His thinking was that this would resonate more with their juvenile target readers. So Parker and Beck followed orders and came up with the character of young Billy Batson, a typical orphaned newsboy in a major metropolitan city.

Billy stumbles upon an ancient wizard, named Shazam, who deems young Batson worthy to inherit his many powers of the Gods. Shazam is dying, and Earth needs a champion to battle against the many injustices of humanity. Batson's down. So now when he utters the name SHAZAM! he transforms into the adult Captain Marvel, and has all the strengths of the Gods in the acronym : S (the wisdom of Solomon), H (the strength of Hercules), A (the stamina of Atlas), Z (the power of Zeus), A (the courage of Achilles), M (the speed of Mercury).

Fawcett had their "Superman," and Whiz Comics featuring Captain Marvel's exploits was leaping off the racks. So Fawcett did what all the other publishers were doing with their hit characters - they gave him his own 68-page quarterly dedicated to presenting (almost) only Captain Marvel stories. Thus, Captain Marvel Adventures went on sale in March of 1941, a little over a year after his Whiz debut.

By all accounts, Captain Marvel Adventures was a great seller. But there was a grim shadow hanging over any success the character and books enjoyed…

From 1941 and the twelve years following, DC/National Comics remained a thorn in the Fawcett companies' side, continually filling suit against them for copyright infringement (Captain Marvel was too much like Superman, was the claim), which Fawcett always seemed to win or get dismissed on technicalities.

But despite spawning an entire "Marvel" Family around the good Captain, including the very popular Captain Marvel, Jr., DC eventually wore down Fawcett's legal defenses, and Fawcett was ordered to cease publication of all Captain Marvel-related material in 1953.

In reality, and with the perspective of time, Captain Marvel as a comic book character really was very different than Superman, often displaying a whimsy, sense of humor, and characature-ish feel than Superman comics would achieve, until forced to take a more humorous tone after the big superhero boom of the 1940's.

Captain Marvel Adventures was quite a ride, and highly recommended. The 40's run of both Whiz and CMA featuring him are still highly valued in the collectors market, and mid to higher grade original issues are getting more scarce as time goes on…
Read More
Looking to sell your comic books?
Browse our selection of key issues from Captain Marvel Adventures below to get an instant estimate of their value.
We have been buying and selling for 20 years and have tons of experience working with sellers just like you!