Captain Battle
None // June 1941 - September 1941
Issue count: 2
Join John Battle and his quest against fascism in Europe! See what copies that are floating around are selling for by using our online price guide!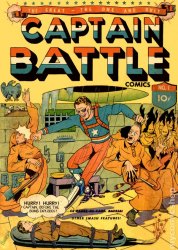 Captain Battle was an action-packed series released in 1941, following the adventures of Captain John Battle, an American soldier using his advanced technology to fight the fascist movement in Europe. The comic also featured stories with Blackout (a Yugoslavian soldier turned superhero after an accident), Undercover Man, and more. The comic only had two releases, both in 1941. A second series was released a few years later, but only with five publications.
Read More
Looking to sell your comic books?
Browse our selection of key issues from Captain Battle below to get an instant estimate of their value.
We have been buying and selling for 20 years and have tons of experience working with sellers just like you!