Disclaimer:
When you click on link title "Check Live eBay Prices Here" on this site and make a purchase, this can result in this site earning a commission. Affiliate programs and affiliations include the eBay Partner Network. Check our Privacy Policy for more information.
Captain America Comics #3
Published May 1941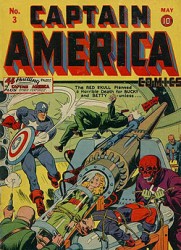 What's Captain America Comics V2 #3 worth in 2023?
Captain America Comics #3 in Mint condition would sell for $250,000 if it came up for public sale. A CGC VF- 7.5 sold for a record $80,000. Higher graded copies have sold, but none in recent years. It's a very scarce book in high grade. In FN 6.0 copies sell for around $40,000. 10 years ago, they were only selling for $10,000, a 400% increase! In GD 2.0, copies sell for $18,000, but in 2009, you could have picked up a copy for for $3,000 or less! If you're looking to pick up a copy, any grade will do. It's one of the most desirable Timely comics on the market today.
Why is this comic book valuable?
Captain America Comics #3 features an absolutely iconic Red Skull cover drawn by Alex Schomburg!
Price Guide Report
| GD 2.0 | VG 4.0 | FN 6.0 | VF 8.0 | NM 9.4 | RECORD SALE! |
| --- | --- | --- | --- | --- | --- |
| $18,000 | $27,600 | $31,060 | $90,000 | $150,000 | $90,000 |