Disclaimer:
When you click on link title "Check Live eBay Prices Here" on this site and make a purchase, this can result in this site earning a commission. Affiliate programs and affiliations include the eBay Partner Network. Check our Privacy Policy for more information.
Captain America Comics #2
Published April 1941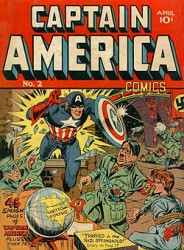 What's Captain America Comics V2 #2 worth in 2023?
In Mint condition, Captain America Comics #2 would sell for $200,000 or more. A CGC NM 9.4 sold for $178,000 in 2012, but more recently, in 2013, a CGC NM 9.4 sold for only $83,000. This is a very scarce book due to the red cover. In mid grade FN 6.0, the value of this book has climbed from $5,000 in 2009 to $18,600 today. In GD 2.0, the value in 2009 was $1,000 and $3,000 in today's market. The cover is not as dynamic as #1 or #3 (Classic Red Skull Cover by Alex Schomburg), so it's desirability is not as strong as for those 2 issues. If you are in the market for Captain America Comics, I would not invest in this particular book. Find a better cover in the run (there are many) and put your money there. Buy this comic if you love it and for the piece of history that it is.
Why is this comic book valuable?
Captain America Comics #2 has a classic Hitler cover by Joe Simon and is the 2nd appearance of Captain America in comic books!
Price Guide Report
| GD 2.0 | VG 4.0 | FN 6.0 | VF 8.0 | NM 9.4 | RECORD SALE! |
| --- | --- | --- | --- | --- | --- |
| $3,000 | $6,100 | $18,600 | $51,000 | $103,100 | $178,500 |