Captain America Comics #1
Published March 1941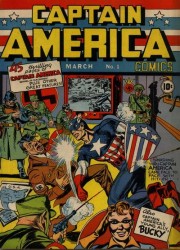 What's Captain America Comics #1 worth in 2021?
Captain America #1 in Mint condition would sell for at least $2,000,000 if it ever came up for sale. A copy in CGC NM 9.4 recently sold for $915,000, which is the highest public sale for this issue. In mid and low grades, Cap #1 is still a very expensive book. In FN 6.0, copies sell for $175,000. 10 years ago, you could have picked up a copy for $25,000! In GD 2.0, copies still sell for $80,000. In 2009, copies sold for only $10,000 or so. We think Captain America Comics #1 is a blue chip comic that will hold it's value for years to come. If you're looking for a copy, you won't go wrong picking up an unrestored copy in any grade. Just don't expect the crazy price appreciation we have seen over the last decade.
Why is this comic book valuable?
Captain America Comics #1 introduces Captain America to an America getting ready to enter World War II in early 1941. The first iconic issue features Captain America punching out Hitler on the cover. Cap's biggest Nazi archenemy, the Red Skull, was also introduced in this issue! Most superhero comics from this time period are propoganda pieces for the war, but Captain America is one of the the most blatant examples of this. Cap has maintained his popularity over the last 80 years, appearing in cartoons, comics and the latest Marvel movies!
Price Guide Report
| GD 2.0 | VG 4.0 | FN 6.0 | VF 8.0 | NM 9.4 | RECORD SALE! |
| --- | --- | --- | --- | --- | --- |
| $80,000 | $125,000 | $175,000 | $325,000 | $915,000 | $915,000 |