Discover the Value of Your Comic Collection
No Strings Attached
There's no wrong reason to sell your comics — but there is a right time, and a right way.
Maybe you're considering selling your comics because your life is changing: you're getting married, or you just want to downsize.
Maybe you've inherited a comic collection and want a helping hand to step in and give you the advice you need to make an informed decision.
Again, there's no wrong reason to sell your comics - but there is a right time, and a right way.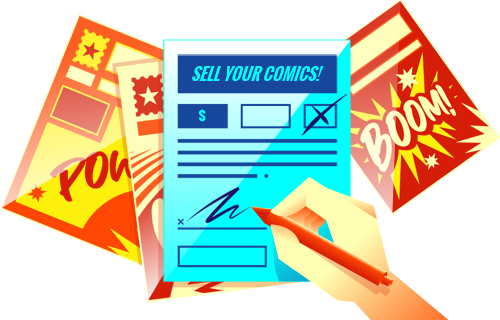 Why sell your comic collection to us?
QualityComix's staff is refreshingly, relentlessly honest - and we've got a metric ton of real-life experience
Decidedly Low Pressure

Decidedly Low Pressure - Sometimes selling your comics is a great feeling, and sometimes it's like the pound of flesh closest to your heart is tearing. Maybe it's not the right time. Or the books aren't the right era. If it's not a sale right now for any or no reason, no problem. Being your guide is our pleasure.

Trustworthy Advice Backed by a Wealth of Experience

We were the nation's first company to introduce an E-Z Seller Agreement and have pioneered the introduction of Real-Time Evaluation Software to our initial offering. With our 60 years of combined experience, we promise to provide honest evaluation, above-board consultation, prompt payment and the comfort option to reject any offer and get your comics returned to you, no hassles, no problem.

You won't be handed off to a 'junior advisor'

Your Quality Comix advisor has your back throughout the sales process. Got a question? Call us. Think of us as your comic-selling concierge. The advisor who starts your sales journey with you is the advisor who finishes with you. Deal consistency, guaranteed.

Relentless Honesty Even When It Hurts

We'll give you the truth, even when it's not what you — or we — want to hear. Given the choice between sinking our teeth into you and being able to snooze soundly at night, we'll take sleep every time. That means that if you shouldn't sell yet, or you should sell to someone else, we'll tell you.

100% Response

Every person and every comic is worthy. We treat both with dignity. Every inquiry is answered — guaranteed.

A Real Corporation

Business type is seldom considered because anyone can put up a website and claim collectables expertise. When you choose Quality Comix, you're choosing a real corporation. We handle all aspects of our business in-house. This includes buying, evaluating, storing, marketing and customer service.
We'll guide you through a successful sale - because we're comic curators who really care about your collection
Unlike basic authenticators, we're not just technical graders, we're comic curators. Our buyers' knowledge includes the historical art, story, and archival information you need to make the most of your consultation with us. A comic carries two stories … the one between its covers and the golden-thread woven by its owner(s). Our buyers are the connective tissue that fans the generational flames of cultural story-telling. We cherish passing on the history of comics on from one generation to the next.
People sell collectables under all sorts of conditions. As consumer advocates, we provide peace of mind and confidence when making difficult financial and emotional decisions. This is especially true for estate-sellers, new inheritors and sellers who need to liquidate quickly.
Don't take our word for it, read what our customers are saying:
Very buttoned up & professional. Pleasure dealing with them. Sold them my 550 comic cllection, & understood exactly why I received the offer I accepted (very fair). No cherry picking of top key comics only.
Total package in regard to grading & explaining keys & tiers. Very timely in regards to communication & payout.
As former corporate Director of Sales, will give them a 10 of 10.

Bill A
When I decided to sell my collection of 850 marvel comics, I turned to Quality Comics and entrusted them with my whole collection which initially gave me high anxiety. But from the initial contact with Lee from Quality Comics all the way through the process of them receiving my comics till the very end where they gave me a very fair price for the whole collection, I was reassured that they respected my collection as much as I did. It was all about trusting them through the whole process, which I did, due to their constant contact, reassurance and integrity. I would whole-heartily recommend their services for your collection.

Thomas S
I can only say that my experience with Quality Comics, and more specifically Lee whom I worked with there was spectacular! Lee walked me through the whole process of selling my collection from the 1960s - early 2000s. I priced and graded my collection before agreeing to sell, and we came out at almost the same evaluation. Actually Lee and Q. C. came out with a higher evaluation than what I had hoped for !
A very positive experience from beginning to end. These are GOOD people and I highly recommend them if you have a collection you are considering selling.

Mark M
What an absolute pleasure of a company to deal with. Selling your comic collection can be a daunting task, especially if you have a lot of comics. In my case I had over 15,000 comics in 37 long boxes. I had made a few calls and every other place I was dealing with insisted I had to make the first offer. Well I had no idea what the worth was.

Finally I found Quality Comix and Lee. They made the process so easy, even to the point of helping me to get pallets and arranging for the shipping. They were also incredibly patient while I dealt with carrying all of those boxes up the stair to my garage for pick-up.

Rather than just giving me an off the cuff price they actually took the time to sort through the comics, grade them and came back with a really fair offer. They left me feeling really comfortable that I got a fair offer for my comics.

I give Quality Comix my best recommendation. You won't be sorry if you deal with them.

Chris M
I can't say enough good things about Quality Comix. Lee called me within 2 hours of uploading my comic book collection for his review. He was kind and had a genuineness in his voice that instantly made me believe that I was dealing with an authentic business that wasn't out to take me knowing I had ZERO knowledge in comic book values. He promptly sent instructions on packing my collection for shipment and provided prepaid shipping labels. After careful review I was made an offer for my collection that I accepted. I believed it to be a very fair offer. If you're in the business of selling a comic book collection look no further. Quality Comix in my opinion is second to none. Thank you, Lee, for a good experience from beginning to end!

Gary L
After months of careful research and considering many options in selling my collection of silver age comics, there was only one I placed my trust in - Quality Comix (QC). Give QC a chance to prove they value you and your collection equally. I did, and would do again without reservation.

Prior to talking to Lee Daniels of QC, my mind was locked that: (1) It's crazy to sell and ship comics worth tens of thousands of dollars to Alabama from California to an unknown company. (2) Selling through a local comic book store, or over eBay myself is more profitable, and safer, than using an internet bulk buyer. I was WRONG on BOTH COUNTS.

Lee addressed point blank all my concerns and really listened to my issues in a genuine, professional, knowledgeable, courteous, patient, mentoring, and consultative manner. QC checked off all the boxes ... A+ Better Business Bureau rating. A near perfect five star google rating with 369+ reviews. A huge veteran run retail presence.

But equally important to me is working with a trusted person, and how easy is it to do business. Lee, and QC are one in the same. Our deal was seamless and he gave me a very fair market valuation to turn comics into cash.

Ron C
I don't typically write reviews but the folks at Quality Comix were very impressive and deserve kudos!
Lee made the process amazingly easy; He clearly explained the process and did not try to blow smoke.
I really liked the packing videos they supplied to help me protect my comics during shipment.
Lee followed up at each step to update me on the progress. When it was over, he took time to explain the evaluation of my collection and made me a very fair offer.

Ted P
There is a reason Quality Comix has across the board 5 star reviews. They really are the best.
My middle school age daughter inherited a cardboard box full of comics from my Dad. Smart kid that she is, she immediately started looking them up on eBay. She quickly realized that her box of comics was pretty exciting. After some research she came across Quality Comix and their amazing reviews. She submitted her list of comics and Lee called us the next day. To say that Lee is a total kick to talk to is an understatement. He walked us through our list of over 100 comics, shared amazing advice and insider knowledge, and gave us a solid idea of what we had in our new collection. This was the point at which Lee could have just given us a number and offered to buy our comics. Instead, he asked my daughter what she planned to do with the money. When she said is was for college, he advised her to get the most valuable comics graded and let them appreciate in value. Let that sink in. After 45 minutes on the phone giving us tons of info Lee didn't push for a sale. He told my daughter to keep her comics.
We are both super grateful for the knowledge we now have about her comics and the chance to watch them appreciate over the next few years. When she's ready to sell, you know we'll be calling Quality Comix. They're the real deal, a business with people doing the right thing and having a fun time doing it.

Tracy K
I'm really glad I found Lee Wheeler and Quality Comix. Parting ways with my Spider-Man collection (dating back to 1967) was a big deal, a rite of passage even. Lee was straightforward and kind with his correspondence from the start. Also patient as I prepared my collection for a sale. Once we agreed on a price, the transaction details/process were seamless, and across a few hundred miles (not a given). Those comic books delivered countless smiles over my first 53 years. I'm glad they left with a smile, courtesy of Lee and Quality Comix.

Frank M
Maybe you're wondering…
Why should I sell my comics to Quality Comix instead of your competitors?

Quality Comix offers a new way to sell your comic books. Sellers in the vintage comics market are confused. Confused because of the comic book companies who employ high pressure sales tactics, ignore your inquiries and are generally unqualified to properly evaluate collections. Quality Comix will answer all of your questions and help you understand what is really happening.. Quality Comix is the first company in the nation to introduce an E-Z Seller Agreement and we've also pioneered our proprietary Real-Time Valuation Software allowing us to make our initial offer to you lightning fast. We dive deep and understand the nuances of what your comics are worth that other companies simply can't.

What if I don't agree with QC's valuation of my comic books?

You're welcome to seek a valuation elsewhere. In fact, we encourage you to do so. Everything we do is transparent and above-board, and we're able to explain exactly how we arrive at each valuation.

Multiple customers come to us, eventually decide to talk to another company, and then return to us later after realizing we really are the best.

After we agree on a price, how can I be sure that my comics won't be damaged in shipping or while they are in QC's offices?

All comic books and comic art you send to Quality Comix are automatically protected against all man-made and natural disasters up to $100,000 per package thru CIS (Collectibles Insurance Services) which provides comprehensive insurance against loss or damage.

In addition, all incoming comics live under biometric lock—accessible only by authorized fingerprint + pin code. Significant-value books are scanned, freshly bagged and boarded and then the bags are barcoded to ensure every comic is accounted for in our system.

How long does it take to get my comics evaluated?

For small collections (under 100 comics), the process takes as little as 3 business days! For medium sized collections (100 comics to 1,000 comics), the process could take up to 10 business days. For Large collections (Over 1,000 comics), the process will take 10 - 20 business days. Our process is extremely streamlined and you can expect to hear back with a final offer sooner than these timelines except when we have a huge influx of collections coming in.

How do I get paid?

On the final payment, the seller id paid via ACH/Direct Deposit.

Who pays for shipping?

Quality Comix will provide UPS labels for your shipment. For larger collections, we will arrange to have it picked up via our freight partners anywhere in the continental United States. All of our shipments are shipped signature required and fully insured for your peace of mind.
Meet the QualityComix Team
Work with one of our capable advisors for a stress-free sale
Brent Moeshlin
Lee Daniels
Michael Cornwall
Faith Nelson
Adam Goodrich
Morgan Hollon
Tanner Guttensohn
Mallory Alvarez