Discover the Value of Your Comic Collection
No Strings Attached
There's no wrong reason to sell your comics — but there is a right time, and a right way.
Maybe you're considering selling your comics because your life is changing: you're getting married, or you just want to downsize.
Maybe you've inherited a comic collection and want a helping hand to step in and give you the advice you need to make an informed decision.
Again, there's no wrong reason to sell your comics - but there is a right time, and a right way.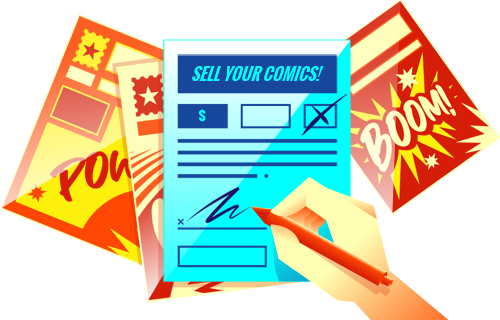 Why sell your comic collection to us?
QualityComix's staff is refreshingly, relentlessly honest - and we've got a metric ton of real-life experience
Decidedly Low Pressure

Decidedly Low Pressure - Sometimes selling your comics is a great feeling, and sometimes it's like the pound of flesh closest to your heart is tearing. Maybe it's not the right time. Or the books aren't the right era. If it's not a sale right now for any or no reason, no problem. Being your guide is our pleasure.

Trustworthy Advice Backed by a Wealth of Experience

We were the nation's first company to introduce an E-Z Seller Agreement and have pioneered the introduction of Real-Time Evaluation Software to our initial offering. With our 60 years of combined experience, we promise to provide honest evaluation, above-board consultation, prompt payment and the comfort option to reject any offer and get your comics returned to you, no hassles, no problem.

You won't be handed off to a 'junior advisor'

Your Quality Comix advisor has your back throughout the sales process. Got a question? Call us. Think of us as your comic-selling concierge. The advisor who starts your sales journey with you is the advisor who finishes with you. Deal consistency, guaranteed.

Relentless Honesty Even When It Hurts

We'll give you the truth, even when it's not what you — or we — want to hear. Given the choice between sinking our teeth into you and being able to snooze soundly at night, we'll take sleep every time. That means that if you shouldn't sell yet, or you should sell to someone else, we'll tell you.

100% Response

Every person and every comic is worthy. We treat both with dignity. Every inquiry is answered — guaranteed.

A Real Corporation

Business type is seldom considered because anyone can put up a website and claim collectables expertise. When you choose Quality Comix, you're choosing a real corporation. We handle all aspects of our business in-house. This includes buying, evaluating, storing, marketing and customer service.
We'll guide you through a successful sale - because we're comic curators who really care about your collection
Unlike basic authenticators, we're not just technical graders, we're comic curators. Our buyers' knowledge includes the historical art, story, and archival information you need to make the most of your consultation with us. A comic carries two stories … the one between its covers and the golden-thread woven by its owner(s). Our buyers are the connective tissue that fans the generational flames of cultural story-telling. We cherish passing on the history of comics on from one generation to the next.
People sell collectables under all sorts of conditions. As consumer advocates, we provide peace of mind and confidence when making difficult financial and emotional decisions. This is especially true for estate-sellers, new inheritors and sellers who need to liquidate quickly.
Don't take our word for it, read what our customers are saying:
Knowledgeable and helpful - they were willing to review a list of my private collection and give me honest feedback. They really know the books and the industry. Whether you are buying or selling books here, you can be confident you are working with people who love and respect comics, and their fans. An unqualified five star operation.

Jeffrey Z
Lee was amazing, very fast response when I put in a request to sell my collection. We came to a great and fair offer for everything and talked about comics and other things. Very personable and caring, customer service was impeccable. They came to me which was a 6 hour away trip and next day. Couldn't of asked for a better experience. Very highly recommend them if you're looking to sell or buy!

Chris B
Quality Comix has amazing customer service and very knowledgeable staff! I spoke with Lee who was extremely helpful and one of the nicest people I've dealt with before. We chatted for a bit about my collection and not once did I get any sneaky salesperson vibes. He's a genuine nice guy! I would gladly seek out Quality Comix again in the future. Thank you!

Dennis
Very professional, transparent, and thorough service. All my interactions with Quality Comix engendered confidence that they were treating me with respect and honesty. Highly recommend them if you're looking to sell or buy comics.

Craig R
From start to finish the experience was exceptional. Lee was very upfront open about expectations and timing. I had a small collection that was fairly valued. I was pleased with efficiency and communication of my whole experience. I would recommend Quality Comix to everyone - whether purchasing or selling/valuing your collection. _ Chris M

Chris M
I was interested in selling comics. A representative immediately contacted me. He invested some time and effort into giving me a free appraisal (which was consistent with others, but more detailed). He was informative and low-pressure. I was impressed by the professionalism of the operation.

Tony D
No one wants to have a conversation where you find out that the 10,740 comics you've been saving for decades isn't worth what you thought it was. I got purchasing bids from three other companies and Quality Comix gave me 27% more than anyone else for my collection. They were professional, responsive, and just made what could have been dramatic a very painless process. They gave me more for my collection and were just nicer than anyone else I talked to. Thank you Lee! You are awesomegreatness!

Cameron F
Maybe you're wondering…
Why should I sell my comics to Quality Comix instead of your competitors?

Quality Comix offers a new way to sell your comic books. Sellers in the vintage comics market are confused. Confused because of the comic book companies who employ high pressure sales tactics, ignore your inquiries and are generally unqualified to properly evaluate collections. Quality Comix will answer all of your questions and help you understand what is really happening.. Quality Comix is the first company in the nation to introduce an E-Z Seller Agreement and we've also pioneered our proprietary Real-Time Valuation Software allowing us to make our initial offer to you lightning fast. We dive deep and understand the nuances of what your comics are worth that other companies simply can't.

What if I don't agree with QC's valuation of my comic books?

You're welcome to seek a valuation elsewhere. In fact, we encourage you to do so. Everything we do is transparent and above-board, and we're able to explain exactly how we arrive at each valuation.

Multiple customers come to us, eventually decide to talk to another company, and then return to us later after realizing we really are the best.

After we agree on a price, how can I be sure that my comics won't be damaged in shipping or while they are in QC's offices?

All comic books and comic art you send to Quality Comix are automatically protected against all man-made and natural disasters up to $100,000 per package thru CIS (Collectibles Insurance Services) which provides comprehensive insurance against loss or damage.

In addition, all incoming comics live under biometric lock—accessible only by authorized fingerprint + pin code. Significant-value books are scanned, freshly bagged and boarded and then the bags are barcoded to ensure every comic is accounted for in our system.

How long does it take to get my comics evaluated?

For small collections (under 100 comics), the process takes as little as 3 business days! For medium sized collections (100 comics to 1,000 comics), the process could take up to 10 business days. For Large collections (Over 1,000 comics), the process will take 10 - 20 business days. Our process is extremely streamlined and you can expect to hear back with a final offer sooner than these timelines except when we have a huge influx of collections coming in.

How do I get paid?

We offer advance payments via Paypal before we receive the comics. On the final payment, the seller has the option of being paid via cashier's check, bank wire or paypal.

Who pays for shipping?

Quality Comix will provide UPS labels for your shipment. For larger collections, we will arrange to have it picked up via our freight partners anywhere in the continental United States. All of our shipments are shipped signature required and fully insured for your peace of mind.
Meet the QualityComix Team
Work with one of our capable advisors for a stress-free sale
Brent Moeshlin
Josh Roberts
Lee Daniels
Michael Cornwall
Faith Nelson

4.8